8 Weeks to Wellness
A comprehensive health, exercise, and weight loss program offered in Centennial, CO

8 Weeks to Wellness (8WW) is a proactive, lifestyle approach to changing your health for the rest of your life. 8WW was developed to provide a structure health program that works with the primary mission being your health. 8WW will optimize how you eat and supplement, what you think about, and how you exercise and care for your body through a specific, comprehensive 8-week program. Our program is different from many weight loss or exercise program because it develops an understanding of how to build healthy lifetime habits. Over the course of eight weeks we integrate chiropractic, exercise, massage, mindfulness, and nutrition. The program is based on science; we look at numerous biomarkers of health and compare them with pre and post program Wellness Scores.
Jody B reviewed the clinic and program on Google writing:
As an "8 Weeks to Wellness. Veteran", I can say that the investment in your health with this Chiropractic Clinic is totally worth it! Chances are that with a few adjustments and some lifestyle changes you will be on your way to Better Health overall.

Join us for 8 Weeks to Wellness
Need motivation with your health and wellness goals?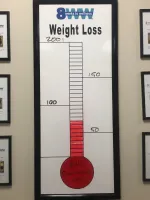 Work with a team to reach your goals
Hold each other accountable
Improve your overall health
Lose weight and inches
Become a better version of yourself
**For more information or to schedule your 8WW initial exam please call us at 303-790-6000.**
More About this Comprehensive Wellness Program
The program is called Eight Weeks to Wellness . Our staff has all gone through the program and believe that this is a life changer for us and most of our patients.
Combining the Five Spokes of Health - chiropractic, massage, attitude, exercise and diet, the program changes your habits to help you live a better lifestyle.
The program is very complete including an exam and complete lipid panel blood test to evaluate your health, along with helping you determine your goals. Your doctors, trainers, massage therapists and staff assist you to achieve your goals with chiropractic care, myo therapy, customized workouts, and diet planning.
The program is very comprehensive. To learn more about it, please visit our Health & Wellness Blog complete with info on all aspects of the program and achieving your optimal health. To watch the full eight weeks of coverage by Colorado's Best morning show
Check out these before and after photos of some of our transformations!
Join Us For a Workout!
Personal training sessions are available Monday-Friday 6am-7pm. To schedule an appointment please call us at 303 790-6000
Watch the full Colorado's Best coverage of 8WW