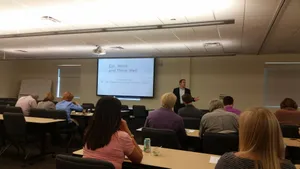 The three most important components of any health care program are education, support, and accountability. The quality of your health is completely dependent on the everyday choices you make. With this in mind, the Kambeitz Chiropractic team now offers a FREE educational lecture series that will greatly benefit your company, organization or group that you belong to.
Contact us
today for more information on this opportunity.
We can also do virtual wellness talks to your company if your company is working from home / socially distanced during the Coronavirus pandemic.

Please contact us to learn more about arranging a virtual wellness talk or a wellness talk at your workplace.

We Have Prepared Wellness Presentations on the Following Topics
Wellness 101: The important wellness basics.
Sifting through health and wellness information can seem overwhelming. We will break down the importance and basics of eating, moving, and thinking well, making it more manageable for you to implement it in your daily life. This informative workshop will kick-start your wellness journey.
EAT WELL—How to eat right for a lifetime.
It's estimated that over 80% of all disease stems from poor nutrition. The fact that we have become an "obese" nation is all around us. Participants will learn what carbohydrates, proteins and fats are and how to properly combine them for optimal digestion and health. We'll teach you how to read food labels and will present many examples of delicious, healthy food choices for meals and snacks. Nutritional knowledge is essential and an invaluable key to living a healthy life.
MOVE WELL— The importance of exercise and good posture.
Today we know from research that movement is not an option. It is as essential to good health as food, water, and oxygen. It is a must and is crucial to living a long healthy life. We're all aware that we should exercise and have good posture. But then, why don't we? This lecture offers insight and guidelines for making exercise, as well as spinal health, a life long commitment.
THINK WELL—How thoughts and emotions control your life.
Our thoughts ultimately control our lives. Techniques, such as meditation and other strategies to deal with stress and the difficult times that invariably find their way into our lives, will be taught. This valuable lecture shows why there is a great difference be-tween just "feeling good" vs. "having a good life."
WELLNESS IN THE WORKPLACE—How to feel good and be productive.
Studies repeatedly show that wellness in the workplace programs are helping companies reduce injuries, health care costs and long term disability. Employee benefits include reduced absenteeism, increased morale and productivity and improved health. Let us teach your employees how we can help and how they can help themselves.